1. I learned that the neighborhood market makes a Pumpkin Vinagrette salad dressing... we will be having it on our spinach salad tonight.
2. I learned that horror movies are not
nearly
as scary now as they were when I was a kid.
3. I learned that Halloween still is and always will be my favorite holiday. I can't get enough of the pumpkin flavors, costume planning, spooky movies, and candy!!
4. I learned that four day weekends for the kids = stressful weekend for the mom.
5. I learned that quite often the mentally ill slip through the cracks and do not receive the help that they desperately need.
6. I learned that my blog is not tailored to a specific audience. I originally suspected that it was but now I have attracted a whole different group of followers and I LOVE it! Keep 'em comin' guys!
7. I learned that eliminating bad elements in my life really opened up some room for healthy elements.
8. I learned that I can still break out like a hormonal teenager. Ggrrrr!
9. I learned that Virgie Tovar is a rock star! I have started reading her
Hot & Heavy
book and I cannot put it down!! AH-MAY-ZING!
10. I learned a few fun Halloween facts:
-The original
Halloween
mask was made from a William Shatner mask because of a tight budget.
-According to Irish legend, the Jack-o-lantern was created after a man named Jack who tricked the devil and was banished from both Heaven and Hell.
-Ireland is the birth place of Halloween. (Maybe that's why I love it so much!)
-Harry Houdini died on Halloween night from an appendicitis.
-Orange and black are traditional Halloween colors because orange symbolizes the harvest and black symbolizes darkness and death.
-Snickers is the number one candy of choice on Halloween.
-During a showing of Rocky Horror Picture Show, an "imposter" was asked to leave. The "imposter" was Tim Curry.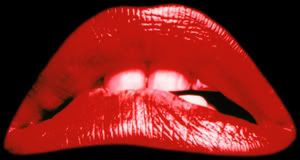 Join me and share what you learned this week!!